A BOLD PEACE*NOV 3RD*BIJOU ART CINEMAS*6PM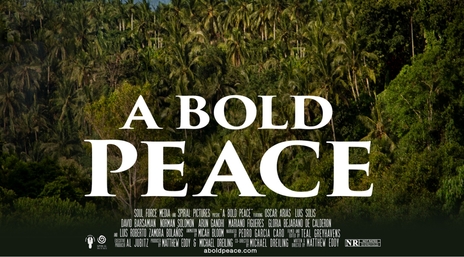 Over 60 years ago, Costa Rica became one of the only nations in the world to disband their military and to redirect national resources towards education, health, and the environment. Since then, Costa Rica has earned the number one spot in the Happy Planet Index, a ranking of countries based on measures of environmental protection and the happiness and health of its citizens.

A Bold Peace juxtaposes the national policy of demilitarization (since 1948-49) with their investment in education, health, and the environment. Pointed parallels and contrasts are made with recent U.S. debates over the national debt, healthcare, the environment and the escalating cost of U.S. militarism. The film features former presidents, officials and scholars from the UN University for Peace, the University of Costa Rica, Costa Rican government officials and ambassadors, leaders of major national co-operatives, as well as journalists and citizens of Costa Rica.
Audience discussion following with film with the filmmaker.
Michael Dreiling – Co-Director & Producer
Michael is an Associate Professor of Sociology at the University of Oregon and father of three children. In addition to his formal academic specializations in political and environmental sociology, international trade policy, and peace studies, Dreiling has produced an activist documentary on the Detroit newspaper strike in 1995 (Stopping the Press), consulted for Parallax Pictures on The Ad and the Ego, and has contributed to various cable access programs over the years. He is author of two books (one forthcoming with Cambridge) and numerous research articles. Awarded for distinguished university service and teaching, Professor Dreiling is also active in the nonprofit world to promote nonviolence, an environment safe for future generations, and an economy that is fair for all. A Bold Peace reaches toward that vision of a better world for our children.
SPECIAL LIMITED ENGAGEMENT – ONE NIGHT ONLY
THURSDAY, NOV 3RD AT 6 PM – AUDIENCE DISCUSSION AFTER FILM