[fusion_builder_container hundred_percent="no" equal_height_columns="no" menu_anchor="" hide_on_mobile="small-visibility,medium-visibility,large-visibility" class="" id="" background_color="" background_image="" background_position="center center" background_repeat="no-repeat" fade="no" background_parallax="none" parallax_speed="0.3″ video_mp4="" video_webm="" video_ogv="" video_url="" video_aspect_ratio="16:9″ video_loop="yes" video_mute="yes" overlay_color="" overlay_opacity="0.5″ video_preview_image="" border_size="" border_color="" border_style="solid" padding_top="" padding_bottom="" padding_left="" padding_right=""][fusion_builder_row][fusion_builder_column type="1_1″ layout="1_1″ background_position="left top" background_color="" border_size="" border_color="" border_style="solid" border_position="all" spacing="yes" background_image="" background_repeat="no-repeat" padding="" margin_top="0px" margin_bottom="0px" class="" id="" animation_type="" animation_speed="0.3″ animation_direction="left" hide_on_mobile="small-visibility,medium-visibility,large-visibility" center_content="no" last="no" min_height="" hover_type="none" link=""][fusion_text]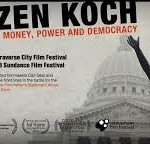 CITIZEN KOCH tells the story of the changing American political landscape through the eyes of three Wisconsin state employees, all lifelong Republicans, who suddenly find their party taking direct aim at them, stripping away the economic ground their families have built and depended on for generations. Aided by a PR blitz by out-of-state Tea Party groups, Walker successfully shifts the blame for the country's financial problems away from Wall Street's wild west practices and onto school teachers, sanitation workers, prison guards and nurses – many of whom were the very voters who elected him to office. After Walker rams through his "reforms," a bi-partisan grassroots movement to recall him begins. But the recall movement collides with the Tea Party-aligned "Americans for Prosperity," founded and lavishly financed by the world's richest men — billionaire brothers David and Charles Koch, who are among Scott Walker's biggest financial supporters. As Republican working class voters witness the Tea Party takeover, they are torn between loyalty to the GOP and the realization that their own party has made them the enemy.
Alternately terrifying and wickedly funny, CITIZEN KOCH asks a defining question: will big money destroy not only the Republican Party, but our democracy itself?
In this searing exposé on the state of democracy in America and the fracturing of the Republican Party, Academy Award®-nominated directors Carl Deal and Tia Lessin (Trouble the Water; co-producers of Fahrenheit 9/11 & Bowling for Columbine) follow the money behind the rise of the Tea Party. CITIZEN KOCH investigates the impact of unlimited, anonymous spending by corporations and billionaires on the electoral process, featuring stories of life-long Republicans whose loyalty is tested when their families become collateral damage in the GOP fight to take organized labor out at the knees. Alternately terrifying and funny, CITIZEN KOCH is an essential and powerful portrait of our political times.
[/fusion_text][fusion_youtube id="gY4kJlIkjqw" width="600″ height="350″ autoplay="false" api_params="" hide_on_mobile="small-visibility,medium-visibility,large-visibility" class="" /][fusion_text]
A message from Directors Carl Deal and Tia Lessin
When the Supreme Court handed down its 2010 Citizens United v. FEC decision, we were surprised. We knew first-hand about the group that calls itself Citizens United. As we were helping Michael Moore ready FAHRENHEIT 9/11 for theaters six years earlier, the group had brought a complaint to the Federal Election Commission claiming that the trailer for that film broke the law, and tried to block it from being shown on TV.
So when we heard the Citizens United organization was now claiming to be on the side of "free speech," and that the US Supreme Court had ruled in their favor, we knew something was not quite right. With CITIZEN KOCH, we set out to try to make sense of that decision and follow the outsized influence of wealthy interests and corporations that advocated for it.
Charles and David Koch's biannual fundraising retreat in Palm Springs in January 2011 provided a clear example of how moneyed interests were warping democracy. This secret convening of the country's wealthiest conservatives, Tea Party-aligned politicians, and right wing pundits to plot how to deploy hundreds of millions of dollars to influence the outcome of the 2012 election clearly could not survive the light of public scrutiny. Just as the convening began, the Koch's private security detail ejected Tia—who was a registered guest and seven-months pregnant—from the premises.
While the beginning of the money trail that corrupts democracy hides behind well-guarded banquet halls in private resorts, its corrosive consequences are glaringly apparent in workplaces, at family tables and in statehouses across America. And that is where CITIZEN KOCH begins.
Two weeks after the Koch convening, Carl's brother, who works as a public university professor in Wisconsin, called us to say "you should be filming what's about to go down here." What was going down in Wisconsin was central to the story we were trying to tell: Newly-elected Gov. Scott Walker, deeply funded by Koch money, had proposed eliminating collective bargaining rights for public employees, and tens of thousands of Wisconsinites were storming their statehouse in protest.
So in February 2011, we grabbed our gear and set out for the state capitol in Madison.
We came to understand the political drama unfolding in Wisconsin to be part of what we believe is a concerted and nationwide strategy by extremists to super-enfranchise the wealthiest people and corporations through allowing unlimited (and undisclosed) donations, and to undermine the already diminished power of working and poor Americans with the passage of voter ID laws and efforts to break unions to diminish their ability to spend politically. Wisconsin was at the cutting edge of this strategy: we repeatedly heard Republican operatives say that Gov. Walker's Wisconsin was "a model for the country," that his moves against organized labor would help turn President Obama out of the White House in 2012.
Following this story also gave us a chance to make sense of why so many working class Republicans support an agenda promoted by America's wealthiest. We have long wondered what it would take to change that dynamic, and in Wisconsin, we found out.
As protesting crowds rattled Madison's Capitol rotunda, we were struck by the widespread outrage Gov. Walker had provoked. It was coming not just from the usual suspects, but from a groundswell of citizens who understood that Walker was betraying Wisconsin's legacy of democratic values. We met state workers—staunch, life-long Republicans—who had concluded that Walker's radical policies would undercut their families' modest standard of living and dishonor their life-long commitment to public service.
Neither of us live in Wisconsin. Carl grew up in the Midwest, Tia in Washington, DC. But as we watched and listened to a growing chorus of politicians and strategists like Tim Phillips from AFP cast aspersions on public employees, it felt personal. Tia's parents were both federal civil servants — her father at the EPA regulating carcinogens, her mother at the justice department administering federal funding to state and local law enforcement agencies. Carl's father was a public university librarian, and his mother taught in an elementary school. They all chose government service for the security it brought to our families, and also because on some level for them it fulfilled a sense of commitment to the common good. When did they become the enemy? When did WE become the enemy?
In our first feature length film, TROUBLE THE WATER, we documented the aftermath of the breaching of the levees in New Orleans. Making that film, we saw up close what an America with no government services looks like—not just in the days and weeks after the disaster, but in the years leading up to it.
Today, the dismantling of the public sector and the vital services it provides has become the cornerstone of a political ideology embraced by the Republican Party. Looking back, post-Katrina New Orleans now seems a logical extension of the vision for America supported by the extreme right and some of the wealthiest.
That is not the country we want to live in.[/fusion_text][fusion_separator style_type="none" hide_on_mobile="small-visibility,medium-visibility,large-visibility" class="" id="" sep_color="" top_margin="" bottom_margin="" border_size="" icon="" icon_circle="" icon_circle_color="" width="" alignment="center" /][/fusion_builder_column][/fusion_builder_row][/fusion_builder_container]